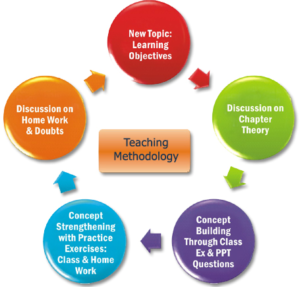 At ARYAKUL, we believe that each child is blessed with a unique talent. Our mission lies in recognizing & enhancing that very special blessing. The ARYAKUL learning experience helps every child to succeed. Our teaching methodology ensures that students are being exposed to a holistic education experience in an active and dynamic learning environment, giving them opportunity to identify and realize their potential, and to achieve excellence.
Students differ in their individual learning styles, and each student possesses a unique combination of multiple intelligences. Our integrated teaching methodology nurtures a stimulating learning environment to encourage students to learn at higher levels. Instructional strategies are student – centered and include active learning, inquiry and experience – based learning, cooperative and participative learning activities. We focus on integration of knowledge, development of critical thinking, problem solving, and performance skills. Such a learning environment encourages the Students to enjoy lessons, try out new things and to think creatively and independently.
To keep pace with the growing technological advancements, use of teaching aids viz.
OHP & LCD Projectors, PowerPoint presentations, etc. is in the regular practice. A Student earning a degree from ARYAKULhas an all-round development with a capacity to communicate and think laterally, and the ability to interconnect different situations, which we believe is of utmost importance in today's world if one is to become a world citizen.
[Best_Wordpress_Gallery id="1″ gal_title="Teaching"]